Dr. Oleh Slupchynskyj voted by medical professionals
as Top Doctor to New York Magazine's Best Doctors for
2013 and 2014.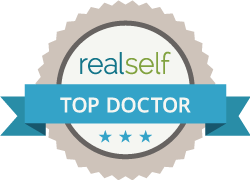 African-American Rhinoplasty
Criteria to Evaluate an African-American
Rhinoplasty Specialist Experience with Primary
or Ethnic Revision Rhinoplasty Surgery
Dr. Oleh Slupchynskyj recognized as one of America's Best Doctors by
U.S. News and World Report.
Dr. Oleh Slupchynskyj, a recognized leader in African-American Rhinoplasty for Ethnic patients, is Dual Board Certified by both the American Board of Facial Plastic and Reconstructive Surgery and The American Board of Otolaryngology for Head and Neck Surgery. Dr. Slupchynskyj's work is highly specialized focusing only on the face, head and neck. He offers 18 years of proven experience, as can be seen in his extensive portfolio of Ethnic patient before and after photos. He is the author of "Rhinoplasty for African American Patients", featured in Archives of Facial Plastic Surgery – an international peer reviewed medical journal which references case studies and scientific data on facial Plastic Surgery Cases.
The following are critical factors to consider when selecting your African American Rhinoplasty Surgeon:
Actual experience and amount of time (in years) devoted to successfully working with Ethnic and African-American patients.
Double Board Certification in Facial Plastic and Head and Neck Surgery.
Amount of >before and after photos available to view on the surgeon's website and/or in their office. Dr. Slupchynskyj reports that this directly correlates to how many patients the doctor sees and has worked on. How can you properly evaluate the Doctor's results if he/she only has a few actual Ethnic patient photos to show versus numerous examples from work done over the years?
All well-regarded surgeons abide by the rules of patient confidentiality and only show patient photos, in their offices and/or on their website, with the patient's written permission. Dr. Slupchynskyj only posts a small portion of his actual African-American Rhinoplasty and Ethnic Rhinoplasty patients' photos due to some patients' desire for privacy and anonymity. Celebrity patients of Dr. Slupchynskyj are also not posted on the website(s) due to the same conditions of privacy.
Dr. Oleh Slupchynksyj, a Double Board Certified Facial Plastic Surgeon and top Rhinoplasty Surgeon is interviewed by theGrio.com
on Ethnic Rhinoplasty. theGrio.com is the first African American
news community featuring video and articles on breaking news,
politics, opinion, money and health.
Madamenoire.com, the sophisticated Black Women's Lifestyle guide, features Dr. Oleh Slupchynskyj as an Ethnic Rhinoplasty Surgeon.
Dr. Slupchynskyj also specializes in African American Buccal Fat removal, Keloid Treatment and other Ethnic procedures.

Dr. Slupchynskyj does not use Medpor implants for nasal augmentation due to its long proven attendant risks and complications. See what other doctors have to say about the use of Medpor Nasal Implants.
AAAASF Accredited Surgical Suite
Is 3-dimentional High Definition Endoscopic
Rhinoplasty Just Hype? Doctor Answers, Tips
View Dr. Slupchynskyj's Quality Health Profile.
The Aesthetic Institute of New York and New Jersey also provides educational material, lectures and online videos on facial Cosmetic Surgery. We invite you to email us or call us for more information on the procedures we perform or information on our upcoming educational events.
About Face:
Beyond Ethnic Surgery
Dr. Oleh Slupchynskyj is Double Board Certified in Facial Plastic and Reconstructive Surgery and in Otolaryngology, Head and Neck Surgery. He is a specialist in Ethnic Rhinoplasty. Dr. Slupchynskyj is clinical instructor of Facial Plastic Surgery at the New York Eye and Ear Infirmary in New York City. He has affiliations and privileges at both Manhattan Eye Ear and Throat Hospital and Lenox Hill Hospital in New York City, as well as St. Barnabas Hospital and The Short Hills Surgery Center in New Jersey. An independent health consumer council recently voted him one of America's Top Surgeons.
---
Listen to an in-depth interview with Dr. Slupchynskyj on African American Rhinoplasty.


---
Celebrity Rhinoplasty Surgery

So many film, music and TV celebrities are often seen with a more "refined" appearance. Can it be that they have had something so subtle as a Rhinoplasty? You be the judge?
View several of your more famous celebs.